In this video, Peter dives into hotel mistakes to avoid when updating your website.
Understanding how search engines work and the tasks that search engines perform that influence how your website is ranked helps paint a clearer picture on how to formulate a part of your online marketing strategy. We highlight a few SEO mistakes to avoid in this article, as well as some guidance on where to spend your energy in terms of optimisation instead.
Mistake 1: Neglecting local SEO
When a traveler is researching accommodation options, one of their first searches will likely be something like  "accommodation in [destination]" or "hotel in [destination]". While these are highly competitive terms to rank for in organic search results, it does come with an opportunity: Local SEO.
Local SEO involves managing your online presence in such a way that you show up for search results, related to your specific location, be it your neighbourhood, town or broader area. With domestic travel surging since 2020, this is particularly important in 2021.
Local SEO checklist:
Make sure that your Hotel's Google My Business listing is as complete as possible
When your potential guest search for "hotels" or "accommodation" in your town, Google will show them a map with a couple of recommended options, and the option to view all available options which will take them to the map search view. To compete in this views, you need to ensure that your Google Business profile is as complete as possible with all business details, location and criteria being completed and up to date.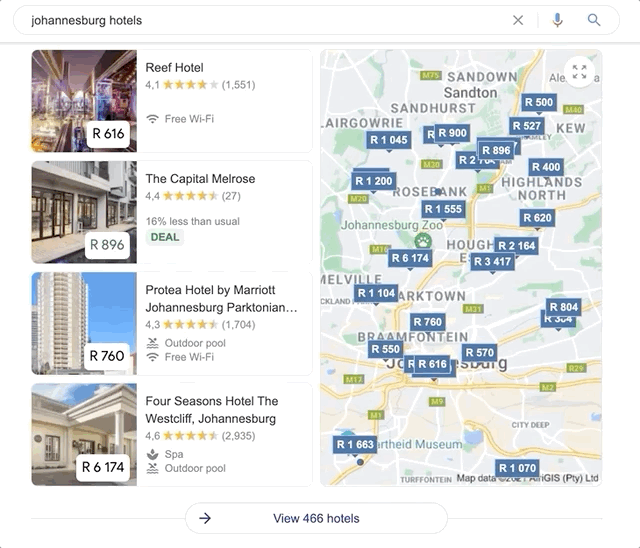 Make sure your Google Business Page is correctly linked to your website
This one sounds obvious, but we still come across cases where a hotel's Google Business listing links to an outdated or unofficial website address. Ensuring that this link is correct will send potential guests to your website to book direct when they are specifically searching for your hotel's name.
Note: This is done in Google Business manager, not in Springnest 😉
Google Reviews are more important than ever
If you're not encouraging guests to review your property on Google after their stay, now would be good time to start. Not only does Google favour well-reviewed listing in map search results, but positive reviews will also improve your listing's click-through-rate (basically, people are more likely to want to find out more about your business, if you have a proven track record of good reviews). Your listing click-through-rate ultimately affects your ranking on map results too.
---
Mistake 2: Perceiving Blogging to be a thing of the past
Creating interesting, useful, or share-worthy blog articles about topics that your target market would find helpful or enjoyable, is still one of the most valuable SEO tactics you can invest in.
Remember, your potential guest uses search engines throughout their dreaming, decision-making and booking journey. Rather than simply competing for bottom-of-the-funnel keywords like "cape town self-catering accommodation", consider that your guest might start by typing a question into Google's search bar, like "romantic anniversary ideas in cape town". Writing an article about interesting or new romantic experiences in your area, will not only help you rank for this query, but will give you an opportunity to soft sell your accommodation product as a romantic getaway.
Need some inspiration? See our 4 Blog Ideas for beating the low season
---
Mistake 3: Unnecessarily investing time and budget in multiple domains
"Should I buy an additional domain? Will it help my ranking in Google?". We get this question often, and it usually involves a domain reseller trying to convince properties to purchase multiple domains related to their business name or destination.  In short, this is rarely worth the time and money. Unless you host individual websites on on those domains, each with a unique SEO strategy, the SEO value will be zero.
When buying an additional domain is a good idea
when you want to protect your brand's online presence
when your name is prone to typos, and additional domain could catch potential misspellings of your name
when you have a clear strategy to set up an additional website with unique content, for a specific market segment or individual product within your business (an example of this would be to set up a dedicated website for your on-site spa or restaurant)
When buying an additional domain is not a good idea
when you want to improve your website's ranking in search engines
when you want to drive more traffic to your website
---
Mistake 4: Underestimating YouTube as an SEO tactic
Apart from YouTube being a search engine in it's own right (considered to be the second biggest after Google itself in fact), the video content you upload to YouTube plays a significant role in your overall SEO strategy.
Google's Video search category isn't limited to showing videos from YouTube, but also web pages with videos embedded. See how De Zeven ranks as the first result in the video category for a highly competitive search result: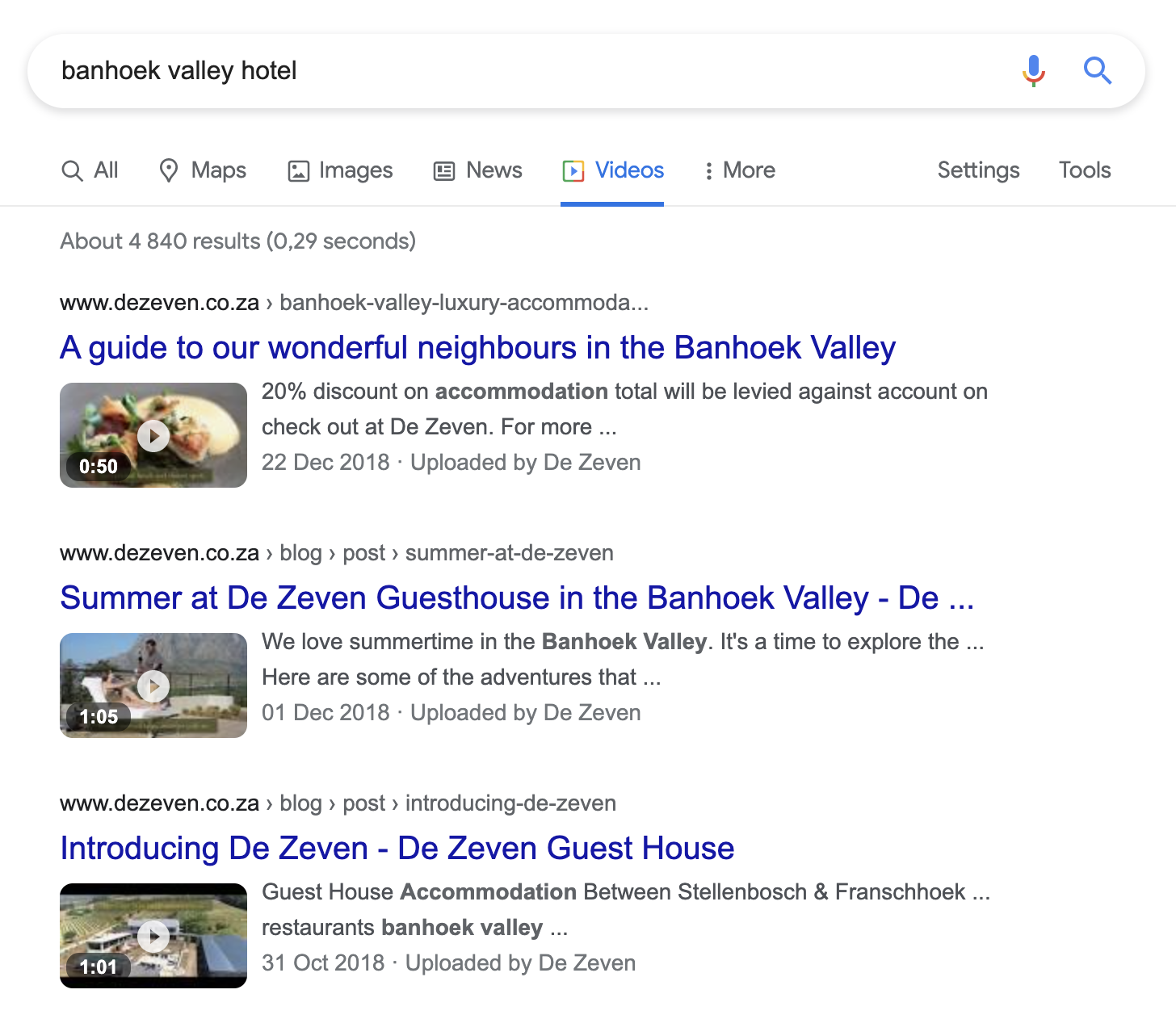 Depending on the search, Google may include your video as a suggest result on search result pages (SERPs). For example, if you have uploaded a video to YouTube about a wine tasting event or tour on or close to your property (and optimised it well), it could show up in Google search results related to wine tasking experiences in your town or region.