In our article on looking at keywords and how they impact your search engine ranking, we explained the process of compiling a well-researched list of keywords and the value that it holds. Content optimised to target those keywords can further improve the organic search engine ranking of your website.
We're going to take a look at how to update your SEO Settings in Springnest, and how to incorporate your keywords.
Before we begin, remember that the content of each page on your website is unique and has several roles, for the most part pages across your website provide information, creates an opportunity for engagement and it's overall intent is to persuade a website visitor into a desired action; booking directly.
With this in mind, you can follow this basic guideline, when updating your SEO settings. Ensure that your keywords are specific to the content of a page, avoid having the exact same meta information across your SEO Settings.
Meta Title
Character limit: 60
Concept: [main long-tail keyword], [your business name]
Example: Affordable guest house accommodation in Zanzibar, Beach Manor
Keeping the keyword at the beginning of any meta title is key.
Meta Description
Character limit: 300
Concept: Include descriptive copy about [your business name], [long-tail keyword that describes the content of the page] that also includes [short-tail keywords about features or unique selling points of the content/accommodation or tour product/activity] that you offer at your [location specific long-tail keyword] establishment.
Example: Book your stay at Beach Manor, we offer affordable guest house accommodation located in the heart of Zanzibar. Our beachfront guesthouse offers free WiFi, buffet breakfast and more. Book your affordable stay in Zanzibar directly online for best value.  
The description should entice the reader to click-through to your website from a search engine. Use the main keyword at least once within the meta description, and supplement the copy with short-tail keywords and/or synonyms.
Custom URL
Character limit: 50
Concept: [long-tail keyword describing page content]
Example: affordable-guest-house-accommodation
Springnest gives you the option to add a custom URL (excl. homepage). If you plan on adding a custom URL, ensure that you use the main keyword of a specific page as custom the URL.
Preview your Changes
While editing your SEO Settings, you are also able to preview your changes, so you are aware of how your meta information will appear in Google: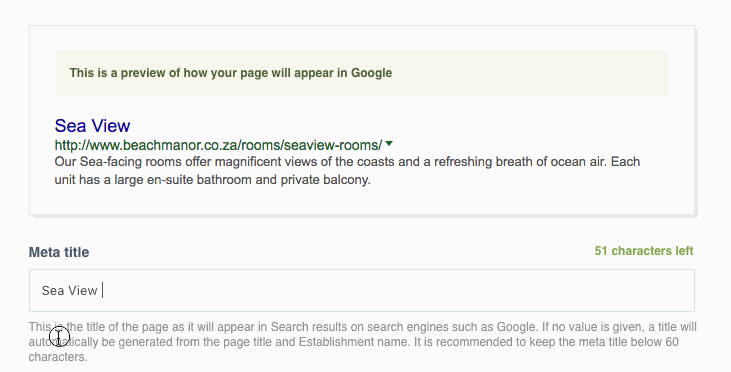 Remember that creating relevant and targeted content on a regular basis that contains keywords from your researched list is key to continuously improving the organic search engine ranking of your website.