Tourism is one of the largest economic global industries and is also one of the largest energy-consuming industries. In light of a the global energy crisis, and as many countries - including South Africa - grapple with power cuts due to infrastructure issues, many properties are switching to renewable energy sources (eg. solar) or investing in alternative energy sources (eg. inverters/generators). This presents an opportunities for more bookings, and holds immense value for ethical, sustainable and responsible travel, if communicated effectively. In this article, we dive into ways you can communicate how you're using alternative energy sources, and use it as a unique selling point to one-up your competitors.
1. Building confidence with a Pop-Up
Pop-ups are well suited for communicating an important message to potential guests. Whether you're completely off the grid through solar power, make use of inverters/generators, or are situated in a unique location that does not experience power outages you can put together an impactful pop-up using a straightforward headline and 1-2 sentences that support your headline.  The key here is to raise the topic of power outages or energy shortages, without coming across as alarmist. Here are a couple of suggestions for Pop-up headlines:
We offer backup electricity
We're embracing renewable energy
Enjoy a stay without power-outages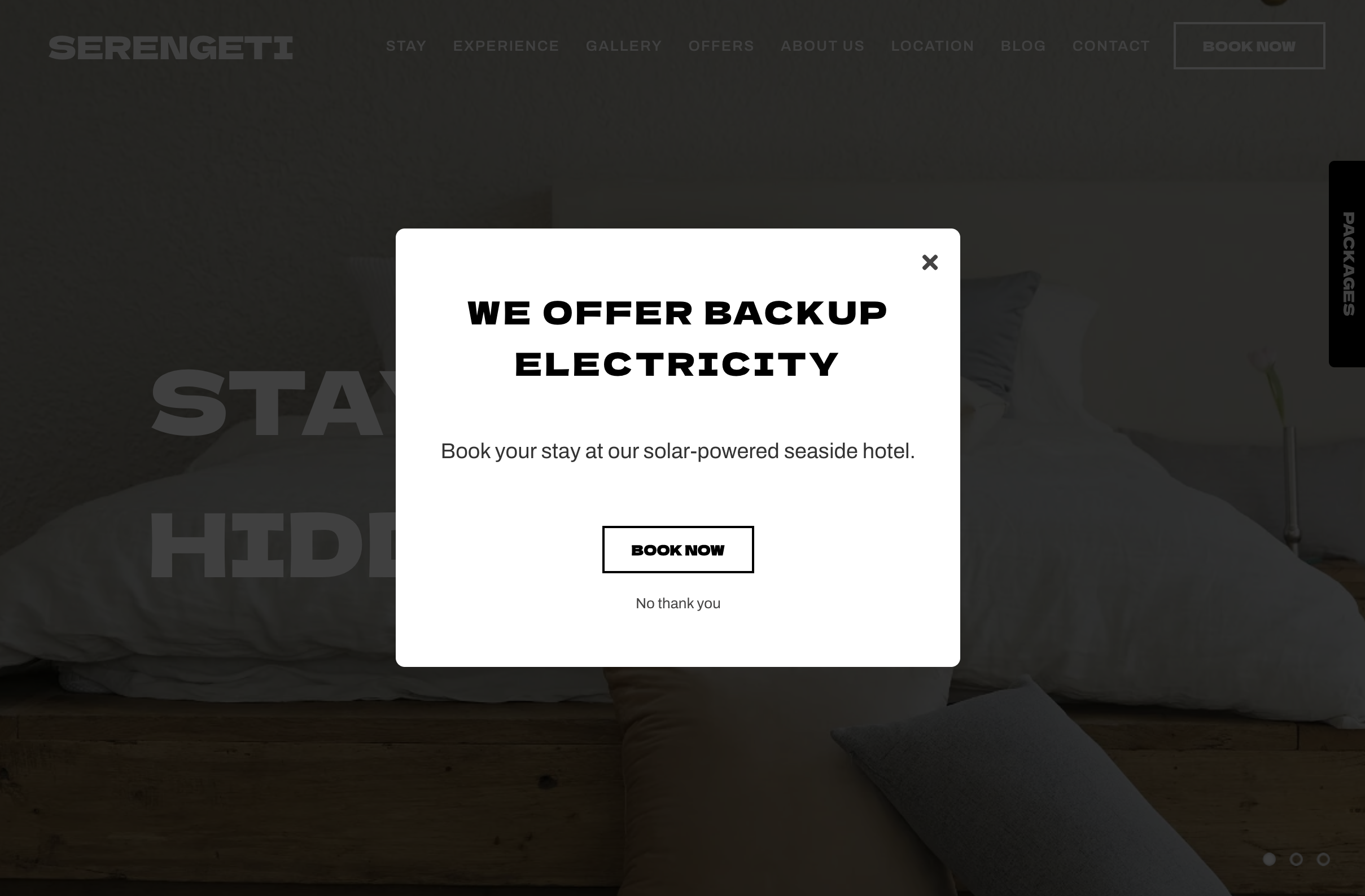 Need more guidance? Check out these 3 best practices to create an impactful pop-up to inform website visitors.
2. Create a Blog article
Blogging can be a successful marketing tool and can offer your website an SEO boost when executed well over time. A blog article can be the ideal opportunity to draw attention to the specific unique selling point of your Hotel or Guest House being powered by alternative energy sources, in a structured and detailed way.
When putting your blog title and content together, think about what you want this article to achieve (eg. drive direct bookings based on your unique selling point), the positive environmental impact of sustainable renewable energy sources, and the overall value that this information has and will offer guests. We'd recommend highlighting these positive aspects in the blog article, versus shaping the content around terms like loadshedding that leave you with a sense of despair no matter the context.
A blog article is an ideal area to go into more detail on how you're implementing renewable or alternate energy generating systems, LED lighting systems, and where you are using energy-efficiency appliances. Remember, a well-informed website visitor is more likely to make a booking decision.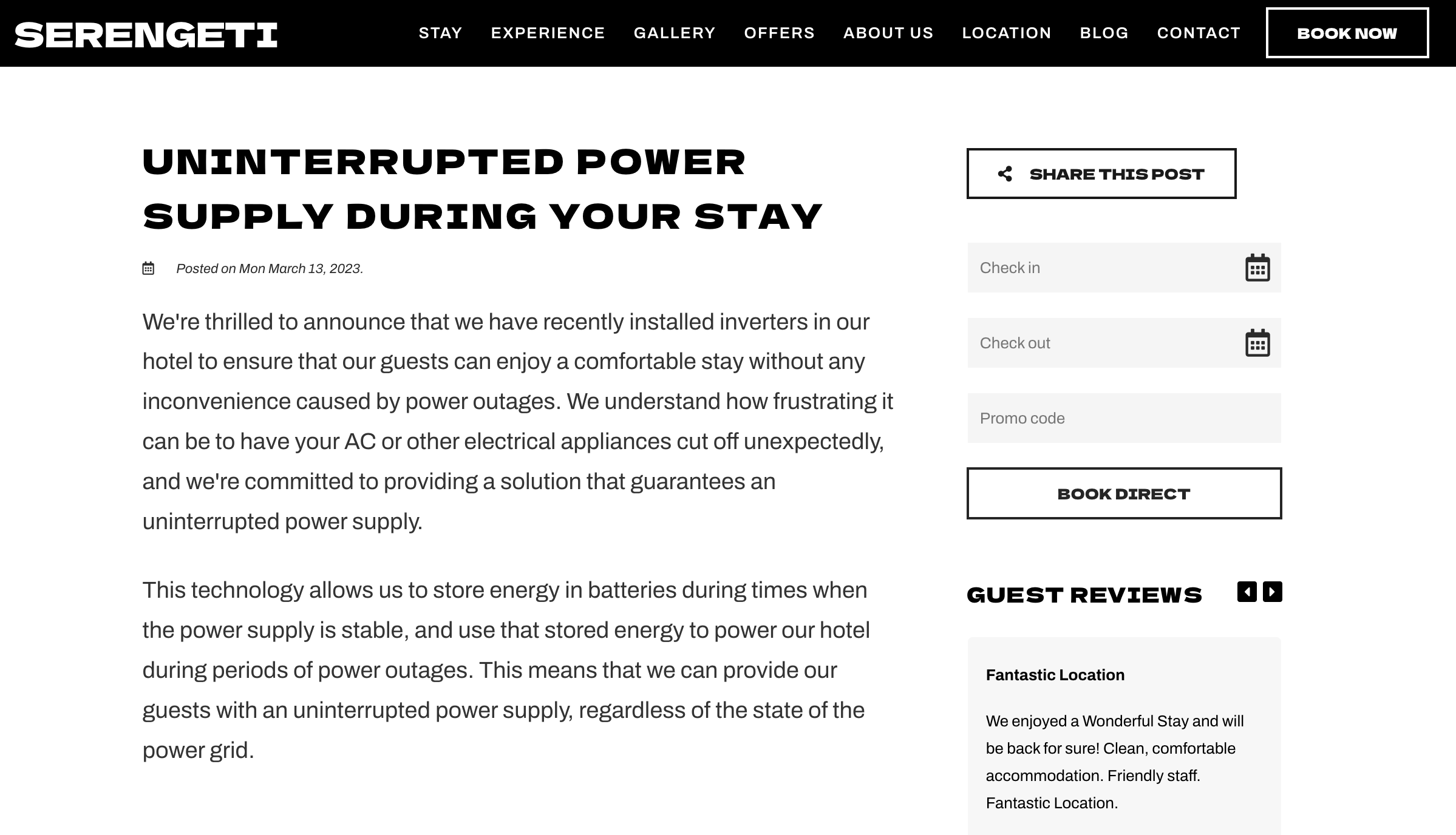 3. Add details to your Homepage slider, heading or description field
The homepage slider, heading, and description are areas that are designed to capture a website visitor's attention. Whether you've switched to renewable energy sources like solar, or have invested in alternative energy sources like inverters or generators. These two areas are a great way to communicate the unique selling point(s) of your Hotel or Guest House. Keep it short, and to the point.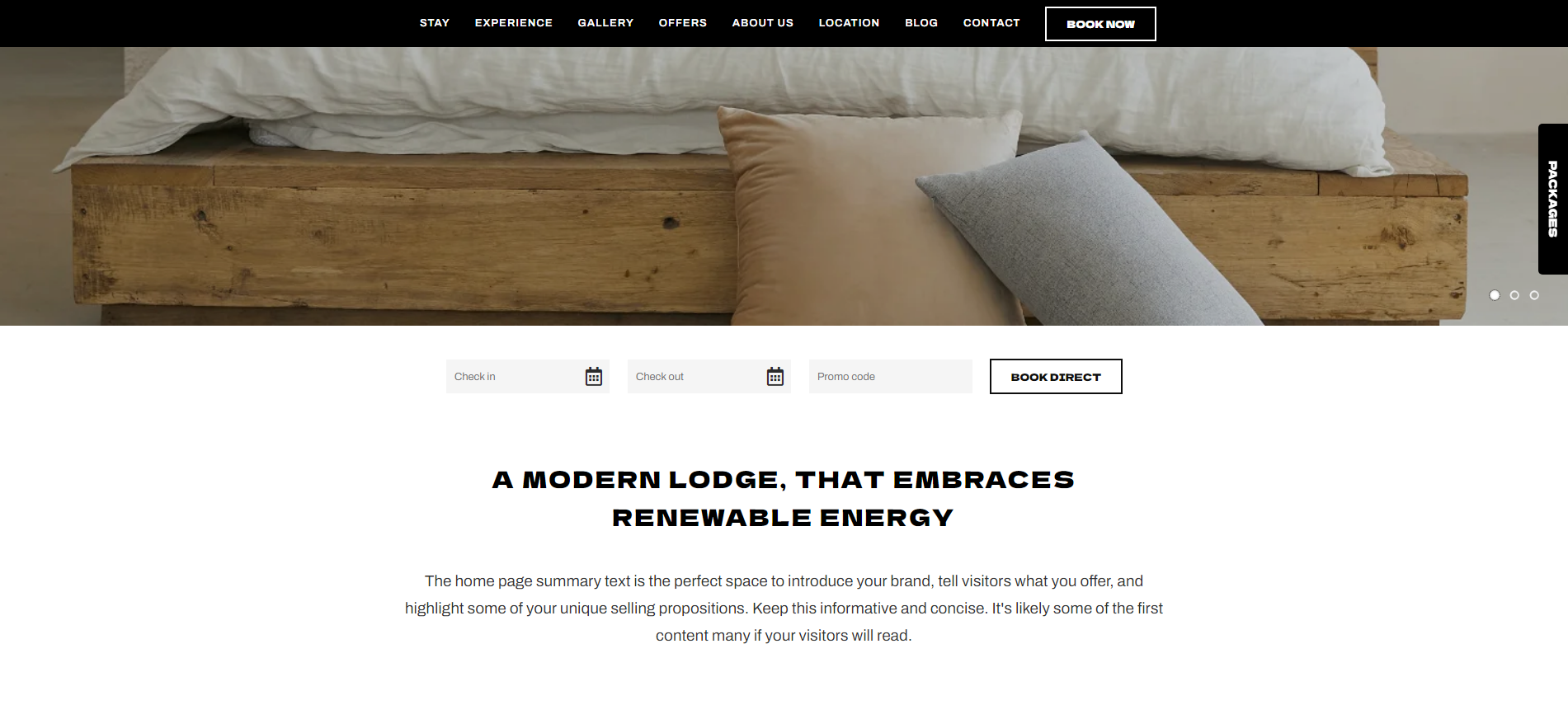 4. Include your unique selling point in your Homepage SEO Settings
When potential guest searches for accommodation in your area, they are presented with a sea of search engine results. Your meta description can be used as an opportunity to stand out from your competitors.
What we DO recommend:
Add a short, and impactful 4-5 word sentence to the beginning of your homepage meta description. Solar: Powered by solar energy. Inverters/Generators: Powered by alternative energy sources.Other: We have an uninterrupted power supply.

What to Avoid:
Do not completely reword, or restructure your existing homepage meta description, this will negatively affect your search engine optimization (SEO) efforts or the efforts of external digital marketing experts that you have hired to work on SEO.
Do not include words that include more of a negative tone like no power cuts or no loadshedding.